Tech Savvy Mama
Subscribe to Get Automatic Updates



Current Articles

This feed's current articles are shown below. Subscribe for updates to all the content available in this feed, or click through here to see the original article.
Known for beautiful waters and Sandy beaches, the islands in the Caribbean are sought after destinations for travelers but somehow Haiti is overlooked by those craving rest and relaxation. Five years ago I started traveling to Haiti. My first trip was in 2012, just two years after the devastating 7.0 earthquake that claimed so many lives. By the...
Despite living in the Washington, D.C. area for almost twenty years, an invitation to The White House is always special even if you've been before. Last week I went to the White House for the third time where my two day visit involved spending a glorious fall day planting basil, peppers, green beans, and sweet potatoes in the White House Kitchen...
This sponsored post is written in partnership with Workman Publishing
Middle school. It's a completely different ball game from elementary school. A new school where multiple elementary schools converge on a larger campus with more students, having lockers for the first time, figuring out bell times and how to get from one place to the next...
For the past five years I've been traveling to Haiti. If you've been reading the blog for awhile, you know that I first went there in 2012, wanting to get to know the country beyond what was being reported on the news following the devastating 7.0 earthquake that rocked the island in 2010. People who had spent time there told me the country...
Middle school. Who recalls their middle school years fondly? Not many of the adults that I talk to do and while the jury's still out on how Emily will remember her 6-8th grade years, Middle School: The Worst Years of My Life is a movie that tweens will identify with.
Based on the Middle School book series by James Patterson and Chris Tebbets,...
It's no secret that we love littleBits! We collect sets like they're trading cards, adding new bits to our collection each time that add to the possibilities of what we can make and couldn't be more excited about the brand new littleBits Gizmos & Gadgets Kit, 2nd Edition.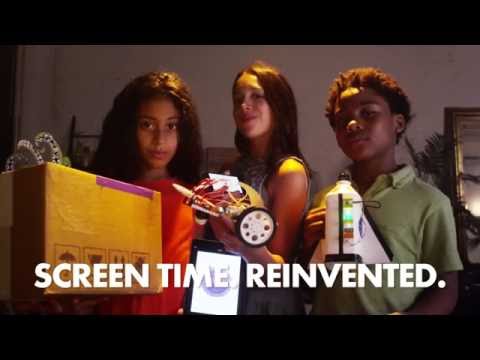 Usually when we get a new set of littleBits, I have a chance...
This is a sponsored post
We often wonder what Oliver, our 8 year old Lab, does when we're not home. We imagine that he's at the window with binoculars on squirrel patrol, wishing he had thumbs so he could open the fridge to find a snack, or flipping through channels trying to find shows with dogs.
If you've ever wondered what your pet does when...
This is post is sponsored by the National Fire Protection Association and Sparky.org.
When I taught first grade, I had a folder for every unit organized by month. This was the time of the year I'd pull out my National Fire Prevention Week folder and flip through my lesson plans, worksheets, and paperback picture books to select items for...
This is a sponsored post
This summer we woke up to the news that a four story apartment complex near one of the schools where I used to teach had been damaged in an explosion. The fire that followed was fatal, killing seven people ranging in age from 3-66, injuring 30, and displacing 100 residents who lived there. In the days that followed, I saw...
If I lost you with the title, stick with me! You're about to learn everything need to know about solid state drives, or SSDs.
When you think about computer storage, you probably think of hard disk drives (HDDs) that have traditionally been the type of storage put in laptops. These days manufacturers are giving consumers choices between...
Browser-Friendly feed by FeedBlitz RSS Services, the premium FeedBurner alternative.