Current Articles

This feed's current articles are shown below. Subscribe for updates to all the content available in this feed, or click through here to see the original article.
Help Is Available From Empire For Those Affected By Coronavirus Crisis
For many years, Empire has been a trusted and reliable local company. We are committed to working with you to eradicate the health risks pests pose you, your customers, employees and loved ones. We offer services that are aligned with government regulations that are safest for...
There are many reasons to choose a company with good London pest control reviews Deciding on a pest exterminator can be a difficult task. The easiest way to figure out the best person for the job is by reading London pest control reviews. By going through these reviews you will be able to find someone who is trustworthy and experienced.
Plus you...
Pigeon pest control, including pigeon nest removal is a vital undertaking. You see, many people view these birds as being harmless. In fact, some even enjoy the sight of them. But what you have to realise is that they can quickly turn into a major headache.
Why pigeon nest removal is so important
The unfortunate truth is that pigeons create many...
Spring pests are coming early this year! And anyone living in London will know that we've had an unusually warm Winter. And the knock on effect of this is that spring pests are emerging earlier, and in greater numbers, than they usually do.
Why are spring pests thriving in greater numbers right now?
The truth is that most pests do not do...
All businesses should routinely carry out pest control preventative maintenance. That being said, the business you're in will dictate how much attention you should pay to this. Some businesses don't have to worry about it at all. Others need to follow a strict schedule for eliminating pests.
There are also different degrees of...
Looking for bed bug exterminator London services? Anyone who is faced with a bed bug infestation will know there are hundreds of companies choose from.
Getting bed bugs treated is a highly challenging task, which you need to do properly. Get it wrong, and you'll still have bed bugs. Get it right, and you can go to bed and finally get a...
Click Cover to read/download complete issue
In case you had missed it 2020 is the "International Year of Plant Health" an FAO project aimed at raising awareness of how "protecting plant health can help end hunger,...
Technological change is occurring faster than ever and never before have we had the ability to predict, contain and eliminate pest invasions with the level of precision now available to us. As the reliance on data from pest control sites grows, the Russell IPM Group has created two new dedicated companies of specialists to contribute to its next...
In recent years, many London pest control companies have been looking to the skies in the form of drones to find cheaper, easier and safer ways of carrying out pest inspections. Deploying drones armed with cameras or even pesticides, are now being used across the world to control pests. Here, we are going to be looking at the top five applications...
Pest infestation is always a nuisance, and very stressful to boot. London is flooded with pests, and people are suffering from the potential damage they cause. It is absolutely vital to get as much knowledge about the cause of these creatures as possible. It can help when it comes to finding measures to cope with a pest infested home.
According...
This might sound like a strange question. However, finding out about this should concern all homeowners. You see, the answer to the question where do squirrels live in the winter is simple. They live wherever humans live – and this means your home.
Why they choose your home
Like all living creatures, squirrels need to survive the harsh...
Whenever you experience a pest control problem, your first call should be to a team of pest technicians who are professional and qualified to do the job. Many people aren't aware that, in order to put your health and safety first, a good London pest company should actually be vetting their employees.
There are various reasons why our pest...
Eco pest control methods for insects are safer, more effective and less harmful to the environment.
You see, most insects are highly invasive and difficult to get rid of. This is usually because of their size, and the fact that they live in dark, hard to reach places. For this reason, powerful insecticides are often used to destroy them.
The...
Like most people who celebrate Christmas, you're probably planning on getting a Christmas tree. A freshly cut tree will look beautiful in your home, especially once it's been nicely decorated. They also smell amazing! But here's what you need to realise. There are usually a fair few bugs in Christmas trees.
That's...
If you have a food outlet in North London pests can become a major problem.
These pests will not only create an unsanitary environment in your food outlet. They also interrupt business, lower your bottom line and affect employee morale. And this can have a huge negative effect on your business.
If you own a food business it's critical...
A rat trap has a very specific job to do – getting rid of rats. There's many different ways to get rid of rats, but it can be important to control these pests more humanely. Humane rat traps are often an enigma to people, which is why we're here to help you with what it actually means. And what the benefits of using live rat...
It's fair to say mice have a better reputation than rats in the rodent world. Although not considered quite as adorable as squirrels, many people in still consider them to be cute and harmless. You might even be wondering why mouse pest proofing in so important. Well, for one thing, pest experts are warning that more rodents than ever...
Malaria still kills 435,000 people every year – 90% of them in Africa – and preventing these deaths as well as the suffering caused by 219 million cases of malaria each year has been the...
www.dailymail.co.uk/sciencetech/article-3529726/When-wasps-ATTACK-Experts-reveal-evil-insects-target-avoid-stung-killing-one-cause-army-swarm.html
Assessing the Optimum Droplet Size for Controlling Dubas Bug on Date Palm in the Sultanate of Oman When Applying an Insecticide Spray from an Aircraft
We commonly find bed bugs in warm, dark areas, which is why they love our mattresses so much. Bed bugs are virtually invisible to us, meaning they can go for long periods of time without even being noticed. Knowing what causes bed bugs and how they get into your home can go a long way in preventing an infestation. Read on to discover our expert...
The biggest problem with rats entering your home or business through the drains, is that the access point is almost impossible to block. By blocking off the drain, you could cause huge plumbing problems in your property. This is why a drain rat flap has been invented as the new go to rat prevention gadget.
How Does a Drain Rat Flap Work?
The...
If you had to pick out one pest, other than rats, that was a huge problem in London and other big cities, what would you choose? We're going to hazard a guess that you almost immediately thought of pigeons. Even the most passionate animal lovers still find inner city pigeons to be a pain.
It's not just the fact that they are there,...
With Halloween just around the corner, you may be preparing to take part in an age-old tradition – carving a pumpkin. Pumpkin carving is something that is loved by everyone, young and old. But, someone else that will enjoy your pumpkin is pests. We're here to help you find out how to protect pumpkins from pests this Halloween.
Most...
It seems that there is no end to the number of applications for graphene. First seen in the 1960s but rediscovered in 2004 resulting in Nobel prizes for the researchers and subsequently a host of potential and actual uses being...
With so many of us on the planet and so much pressure on land, natural habitats and the wildlife they contain it is frightening to read that we still lose 40% of our food crops to pests. It is also...
Bed bug heat treatment can be very effective, and not as time consuming as chemical treatments. If you have a bed bug infestation a heat treatment is also the most long lasting method of treating it. At super high temperatures, a bed bug at any life stage will be killed outright. And unlike conventional treatment, that includes their eggs. In this...
Have you noticed the leaves start to change colour on the trees? It seems that autumn is officially upon us. And with the arrival of this new season comes a whole new host of autumn pests. Not only do you want to keep the cold out of your home, you want to keep these pests out to.
During this time of year, you will notice fewer flies and wasps....
Rats in UK news stories have been a huge topic this week. Pest control experts have warned the British public that a whopping 120 million rats could be headed right for our front doors. Living in cities and urban areas, like London, means that rats will always be a common thing. However, this recent scare has got us thinking more proactively about...
As a global market leader in lactic acid and lactic acid derivatives, and a leading company in emulsifiers, functional enzyme blends, minerals, vitamins and algae ingredients, Corbion has come a long way since 1919 when it was founded by sugar producer, Centrale Suiker Maatschappij (CSM) N.V. Today, it produces biobased ingredients and chemicals...
Recent reports have left cat owners concerned that foxes may attack, kill and eat their beloved pets. This has left the question on everybody's lips – do foxes eat cats? The fear has led us to keep our pets in during the night in case of a fox attack.
How much truth is in recent newspaper articles? Are they fear mongering and...
For many of us, spotting a spider or handling a pet's flea problem doesn't call for outside help. But for more serious infestations, professional intervention is always the best choice. As with many others, though, the pest control industry suffers from its con artists. The market has been inundated with pest control scams. This is...

Professional Pest Control in Croydon
At Empire Pest Control we not only serve Greater London but also provide extensive coverage of our services to the outer reaches of the capital bringing expert pest control services to Croydon and beyond.
Whether you are a business in the centre of Croydon or a private...
Now that the summer is winding down, wasps will be even more aggressive in their search for sugar. This means that sugar seeking wasps can become a bit of a problem. Here, we are going to look at how you can keep safe from wasps that may be paying you a visit to do more than just borrow a cup of sugar.
Never Swat At Sugar Seeking Wasps
The first...
Dr Guglielmo Pampiglione, Dr Chiara Piombo, Dr Marco Caimi – InPest Lab, Italy.
Abstract: Food Safety Standards like ISO 22000: 2018, BRC, IFS, are providing a general improvement of the quality of Pest Management services introducing a new concept of collaboration between Pest Management operators and client companies in recent years. This...
As a human race, we rely heavily on the use of pesticides. Not only do they help yield crops and keep us fed, pesticides also come in handy when combatting residential pest control infestations. However, are some pests resistant to pesticides? The idea of this can be a scary to contemplate. But there are a growing number of pests that are...
Moths are family members of the insect family Lepidoptera. The same family as butterflies. However, it's fair to say that not many people consider moths to be as pretty as their cousins. Butterflies are also less likely to invade your home. And if they do, you're less likely to be worried or want to get rid of them quickly. You might...
We all know, even if we don't understand the specifics, that a termite infestation that's left undealt with is a bad thing for a property. With colonies that can number into the millions, they often leave a devastating path of destruction in their wake. The best form of protection against termites is prevention. However, if...
We should point out from the outset that you don't really need to panic and that it's rare for anyone to die from a spiders that bite UK. However, it's a misconception that there are no UK spiders that bite humans. It's rare, but it's worth being aware that it happen, and while they may not kill, there are a...
If you've ever spent time looking for pest removal services in London or anywhere in the country, you may have noticed one particular service on offer – 24 hour pest removal. Now, there are many jobs where normal business hours don't apply. Paramedics, nurses, doctors, police officers, firefighters and postal workers spring to...
www.dailymail.co.uk/sciencetech/article-3529726/When-wasps-ATTACK-Experts-reveal-evil-insects-target-avoid-stung-killing-one-cause-army-swarm.html
There are various pests that pose a threat to businesses in the UK. As well as damaging property and ruining stock, products and anything else related to a company, pests can also do a  good deal of harm to its reputation. Why would anyone want to eat in that nice little Italian restaurant in London, if it was recently discovered they had a...
It's not just in the house that rats are unwelcome. Practically no one likes to have them outdoors either. Do you really want all the hard work you put into the exterior of your property being undone by rats in the garden? If not, you will want to act fast to reduce the amount of damage they are likely to do. As well as deterring them from...
It goes without saying that no pests are welcome in our homes. Anyone in their right mind would want to get rid of them at the first sign of a problem or infestation. That being said, there are some domestic pests that are more damaging and dangerous to leave in you home without a proper course of treatment than others. In the following post, we...
Rats and London go together like tea and biscuits, salt and pepper, cheese and pickle. They have lived in London for centuries. So, like it or not, they are our city neighbours. While it may not be completely true that rats are always no further than 6 feet away from you in London, like many other big cities in the world, these rodents are...
international-pest-control.com/wordpress/wp-content/uploads/2016/08/photo-of-BioConsortia-R-D-team-gathering-around-to-see-latest-microbial-discovery-under-microscope.jpg
Whether you have a commercial property or a residential home to take care of, it is sensible to be vigilant against pests. You may have noticed, that, like many other London pest specialists, we offer 24 hour pest control here at Empire. Perhaps you have wondered why, when most people – unless they are night owls – would normally carry...
Cockroaches. When most people hear that word, they shudder and feel pretty uneasy. A perfectly understandable reaction, when you think about how ghastly these creatures are. Not only are they seen as a sign of filth and dirt, but are known to carry and spread disease. It's fair to say that cockroaches are probably one of the least popular...
Whether you've seen the evidence for yourself, or heard the news reports over the last few years, the problem is clear. Pests, and the need for pest control in West London, has been on the incline. That begs the question. What are the specific reasons why this increase has occurred?
A lot of the finger-pointing is directed at local...
Creating refuges for wildlife around fields is not uncommon in the UK and around the world but for these strips to be of value they need a diversity of plant species growing in them. Apparently, they are all too often...
A new, innovative, customer and operator focused manufacturer of global vector pest management equipment has arrived: PronixNova Limited. Between them, the two proprietors of PronixNova have over 75 years combined experience in fine droplet application methods covering field use, product design and manufacture.
Following the take-over of Curtis...
A nationwide experiment carried out in the UK has revealed that the old myth of slugs being attracted to beer is in fact true, with lager and bitter proving to be the most effective drinks for successfully trapping those pesky garden pests.
Up and down the country members of horticultural charity, Garden Organic, have been testing slug trapping...
Staff changes at ICB Pharma
ICB Pharma has announced it has a new Head of Pest Innovations Department; after one and a half years as the Head of Marketing, Krzysztof Pekala has taken on the additional responsibilities of this new role. The company's strategy for...
Wageningen University & Research (WUR) and Tencent, will organise the 2nd International Autonomous Greenhouse Challenge in which multidisciplinary teams from around the world will use artificial intelligence to remotely produce vegetables. The goal is to explore how artificial intelligence (AI) can produce greenhouse grown vegetables more...
On the eve of a Europe-wide day of action calling for the European Commission to protect bees from harmful pesticides, the Commission announced it will delay the implementation of new pesticide testing standards by a full two years and may revise them.
SumOfUs, a movement of consumers setup to hold corporations accountable for their actions, has...
Bayer is disappointed with the jury's decision in favour of Mr. and Mrs Pilliod, the plaintiffs, in the Californian Courts and it has announced that it will appeal the verdict, which Bayer claims conflicts directly with; the U.S. Environmental Protection Agency's interim registration review decision released just last month; the...
Wildlife friendly refuges around the edges of farmers' crops have been credited with slowing biodiversity declines, however, new research shows their success ultimately depends on what's growing next to the field.
Recent reported increases in some crop pollinating insects suggested the upturn was due to more UK farms creating these...
Very few situations are more frustrating or stressful than an infestation of bed bugs. They can be incredibly hard to remove from your home and possessions. They spread everywhere, but, one of the things people struggle with most is bed bugs on clothes. If you have ever faced this experience – or are worried that you might –...
www.dailymail.co.uk/sciencetech/article-3529726/When-wasps-ATTACK-Experts-reveal-evil-insects-target-avoid-stung-killing-one-cause-army-swarm.html
international-pest-control.com/wordpress/wp-content/uploads/2016/08/IPC_JulAug16_p202_203_What-is-resistance...N_Blaszkowicz_page1_image1.jpg
Mice find human residencies just as appealing as we do. They are perfect for hiding away from the colder temperatures of winter. They also provide protection from hot conditions during summer. One place in your home that's particularly attractive to mice is the inside of your property's walls. As mice can spread disease, chew at...
Pests of all shapes and sizes spell trouble for business. There's no denying this fact. However, there is one insect pest that, more than any other, can spell disaster for a business. Particularly a business involved in the storage, use, preparation or even cooking of food. That pest is cockroaches. Not only are they grotesque creatures...
Squirrels…who could possibly hate squirrels? They are clever, cute and cuddly looking. But that's only if you look at them from a wildlife lover's point of view. From the point of view of a homeowner and someone who spends a lot of money and time in their garden, squirrels can be a menace. The interesting thing is that, while...
As we head towards the warmer weather, flies start to become a big problem. And as temperatures rise, fly prevention and control becomes even more necessary that usual. As well as being plain irritating with the way they buzz around, they can also pose health and safety risks. As you probably know, flies carry a multitude of diseases and bacteria...
Pest infestations are a real problem for both commercial and domestic property owners alike. Empire use effective ways to get rid of pests once they've invaded your property. But, because infestations can be avoided with preventative measures, we also provide highly successful pest proofing methods as part of our range of services.
The...
When the need to hire a pest control service arises, it's important to carry out thorough research. There are various things you need to consider, such as the cost, their experience and methods. One thing you need to look at is whether, like Empire, they are properly accredited by organisations like the British Pest Control Association. Why...
In the hospitality industry, more than any other service area, pest control is crucial. The hospitality industry is very competitive, and there are a lot of hotel and dining options available for customers to choose from. It takes a long time for a good reputation to be built up. And, once it's earned, it is extremely valuable. The problem...
We don't get many articles on animal health so it's good to start this issue with news of an infectious diseases surveillance program in sub-Saharan Africa which aims to build a database of animal parasites covering six countries.
Tea plantations are the...
The founder, chairman and CEO of NEWPHARM®, Dr. Dionisio Bagarollo, describes the transformation of his company, as the second generation of the Bagarollo family successfully take over the top management of NEWPHARM®.
Dr....
New products for the Italian market
New equipment for the control of viruses, bacteria and weeds are on their way from Copyr. The company has partnered with IGEBA for the exclusive distribution of nebulisers in the Italian market.
With over 50 years of consolidated experience and R&D of insecticide formulation, Copyr has turned to...
STK & Sipcam announce exclusive distribution agreement
STK bio-ag technologies, the innovative Israel-based leader in bio-ag technologies for sustainable agriculture, and Sipcam, a global leader in crop protection products, are announcing an exclusive...
Farmers irrigating their crops may soon be getting some help from space. In 2018, scientists launched ECOSTRESS, a new instrument now attached to the International Space Station. Its mission: to gather data on how plants use water across the world.
Scientists are creating a new smartphone app to help farmers and growers tackle the pests destroying their crops, and it could soon have a major impact on the way information about the natural world is gathered, stored and accessed worldwide.
The team of researchers from the University of Lincoln, UK, is designing and building the specialist app...
As much as ants are a pest, they can be intriguing creatures. And when it comes to team work, there are some fascinating facts about ants working together. They really are an incredibly intelligent insect.
Understanding how ants work together might even help you prevent an ant problem. If you have seen ants in your home, considering their...
In a UK first, a pioneering scientific research company has introduced a new way for growers to test their plants and crops for harmful fungi and bacteria, allowing action to be taken before it's too late.
Eurofins Agro UK has introduced scientific testing to the UK which can detect an issue before it becomes visible, with the aim of...
The Parasitology and Entomology team at the National Veterinary School of Toulouse, France, is organising an entomology course which will be held from the 26th to 30th of August 2019.
The title of the course will be: "Hands on Course on Arthropods of Medical and Veterinary Significance: A global perspective, from theory to practice",...
Scientists have revealed for the first time the natural weapon used by marigolds to protect tomato plants against destructive whiteflies.
Researchers from Newcastle University's School of Natural and Environmental Sciences carried out a study to prove what gardeners around the world have known for generations – marigolds repel tomato...
Using the gene editing tool CRISPR, a team of scientists at the International Institute of Tropical Agriculture (IITA) has announced that they have developed banana and plantain varieties that are resistant to banana streak virus (BSV). BSV is hampering the crop's production in Africa and threatening the food and income of millions of...
Farmers face many challenges in managing their farms profitably, including fewer products available to address increasing resistance. This reduction stems from steadily tightening regulations and the difficulty of finding new active ingredients. BASF's fungicide innovation Revysol® is the first isopropanol-azole being introduced to the...
CABI scientists have revealed that India's tea – which accounts for around 27 percent of the world's tea production – could be protected from devastating crop pests with more environmentally friendly and sustainable biological controls rather than an over reliance on pesticides.
As part of research funded by Unilever...
The African Small...
There is nothing worse in life than finding a pest infestation in your home or business. Pests are disgusting to have around, and they can actually do a lot of damage to your property as well. We are very lucky to have so many different types of pest control available to us in the UK. Our homes and businesses don't have to suffer from pest...
Even the most avid bird enthusiasts aren't usually very keen on pigeons. Pigeon simply cause too many problems. These problems are tricky to solve for UK homeowners, and can cause no end of issues for business owners. This is because pigeons can wreak havoc and damage our properties. Read on to find out about our top expert pigeon...
Many people keep rats as a pet, but for the majority of Londoners they are often our least favourite rodent. Despite this, some facts about rats are quite intriguing, as they are fascinating and intelligent creatures. This is one of the reasons why Empire do our best to control them humanely. Where possible, we set traps and bait stations that...
Mice can be a big problem. Not only because they bring with them diseases, viruses, and bacteria – they leave droppings too, which make your home feel dirty. But pesticides are not always the best solution for us or the environment. Could the latest research into mouse pheromones be the answer?
Mice also are very hard to unseat and can...
Schools by their nature are prone to clutter. Boxes, papers, posters and books are all used by teachers and tend to pile up. The use of these learning materials is great for our children, but in storage areas that are left undisturbed for long periods of time a pest control issue can occur. This and other forms of clutter are just some of the...
because they are non-toxic. Whether it's in our homes or our businesses, it seems like a constant battle to keep pests away. People all over the UK struggle to prevent them from damaging our property. And when faced with a severe pest problem, it's often our first point of call to turn to services that offer chemicals as the only...
Winter may be the perfect time to travel. The UK weather has become a bit tedious by the time February rolls around. But whether you're having a half term break with the kids or are just escaping the cold for some sun, every location you visit will have one thing in common…insects!
Depending on where you visit, you will experience...
The fox is known as one of the most cunning pests. Usually sighted in towns and cities, it's our UK gardens that take the hit. It's important to keep in mind that wild animals can be dangerous, but foxes are generally docile. That doesn't mean we want them ruining our gardens, the same as other common garden pests. So here we...
A study by researchers from Sweden and Hungary has shown that white, painted stripes on the body protect skin from insect bites. Among indigenous peoples who wear body-paint, the markings thus provide a certain protection against insect-borne diseases.
Most indigenous communities who paint their bodies live in areas where there is an abundance of...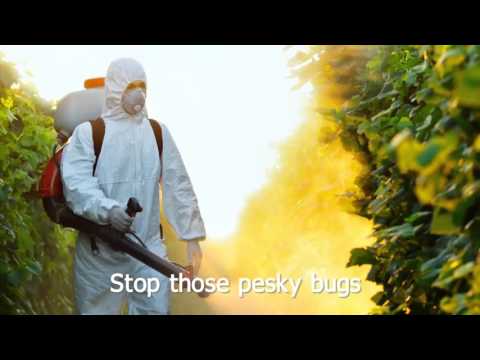 Browser-Friendly feed by FeedBlitz RSS Services, the premium FeedBurner alternative.